DYFM Open
July 17, 2022 @ 9:00 am

-

1:00 pm
Make the Downtown Yakima Farmers Market your outdoor grocery store!
DYFM will run every Sunday, 9am-1pm, thru October 9th in Downtown Yakima (22 S 3rd Street) in front of the Capitol Theatre.  Find Washington State's farmers, specialty food producers, artisan & craft makers, food preparers, and entertainers (buskers) selling directly their foods and handcrafted products.
Buskers at the Market:
9am-10am:  Artistic Music Experience (AME) Drum Group
Anthony Lowell, Mike Mitchell, and Eric Lee have been performing together (after reuniting) for the past 18 years. They are the core of a much larger group that performed together as teenagers, back in the mid 70's. They have performed at various community events, venues, special events, schools, concerts, and countless other places in and outside of the State of Washington.  All their music is original, with an emphasis on making their audiences leave with a good feeling.  They have a blend of instrumental and vocal songs, and make it a point to get their audience involved with their performances. They play various musical instruments, with a primary emphasis on Conga, Bongo drums.
10am-1pm: Ryan and the Bear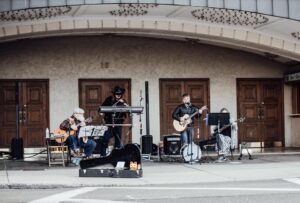 Please regularly visit the market website and Facebook pages to be kept up to date on events.
If interest in being a Vendor or Busking for the 2022 market season, please contact the Market Manager, Yvette Lippert, at farmersmarket@downtownyakima.com and/or 509-961-2055.